The Spice is an all new wave range that gives you incredible rail carving, impressive speed through sections and instant drive out of turns.
The design brief focused on offering more performance and progression than the Wedge, while being more user-friendly and forgiving than the Pro.
The all wave performance of the Spice allows it to handle a range of conditions, from small beach breaks to overhead point breaks.
NEW 8'2″ x 30.75″
Length: 8'2″ / 249 cm
Width: 30.75″ / 78 cm
The 8'2″ was Trevor Tunnington's favourite model during the development in Portugal. This size is easy to paddle yet reacts on a dime from the thin bevelled rails. Fast, Stable and on point, the performance defies its size.
TIMELESS LOOK, SOLID PERFORMANCE
Twin T-stringers made from glass fibre are positioned on the deck and bottom of the board close to the rail, providing a massive increase in the overall strength against total breakage in surf.
An additional wide layer of 200g glass wraps the rails for higher strength against paddle impact and further reinforces the overall strength against buckling.
The deck features reinforced biaxial glass and Australian pine, to resist heel dents and impact from the standing area.
The nose and tail are wrapped in multiple layers of glass fiber for further strength on these impact zones.
BEVELLED RAIL
OFFERS 3 DISTINCT FEATURES
1. The bevel rail creates a narrower planing area, helping to generate more speed and acceleration down the line.
2. The angle of the bevel helps you toll the rail effortlessly, making the board very responsive to pump on the wave face and sink through carving turns.
3. The bevel creates a thinner more pinched rail so you don't have to apply as much foot pressure to initiate turns.
FULL NOSE OUTLINE
Provides stability and extends the rail line for faster speed.
POINTED NOSE TIP
Pierces through waves and reduces swing weight through turns.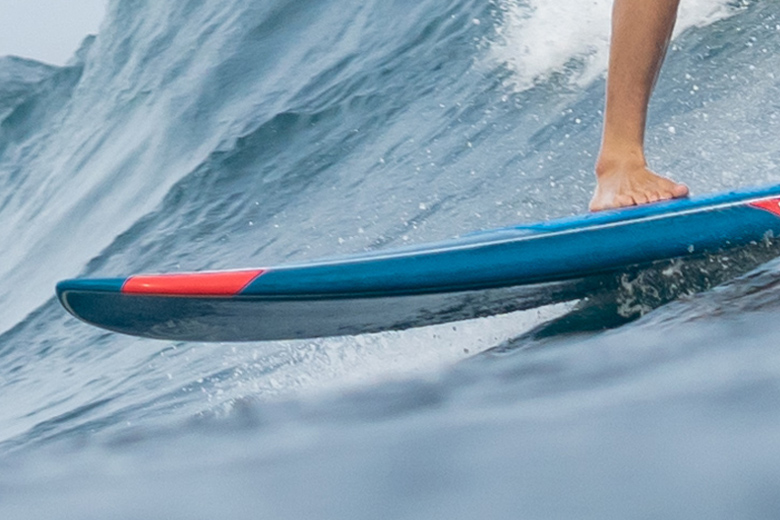 THIN TAPERED RAIL PROFILE NOSE
Helps reduce swing weight from the nose to enhance manoeuvrability and speed through turns.
PARALLEL MID-SECTION
Helps engage the rail for good speed down the line.
SLIGHT DOMED DECK
Helps keep rails fine and gives enough float in the center buoyancy of the board.
THICKER MID-SECTION
Provides float and carries speed down the line and momentum through smaller surf.
ROCKER
Smooth rocker has gradual nose and tail kick, offering the right combination of paddle speed and manoeuvtability. The nose rocker prevents the nose diving getting into waves and from catching through turns, while the tail rocker helps lift the nose to pivot.
BOTTOM SHAPE
Single concave provides lift and speed, feeding through to a double midsection and slight vee at the tail to manoeuvre and rock from rail to rail.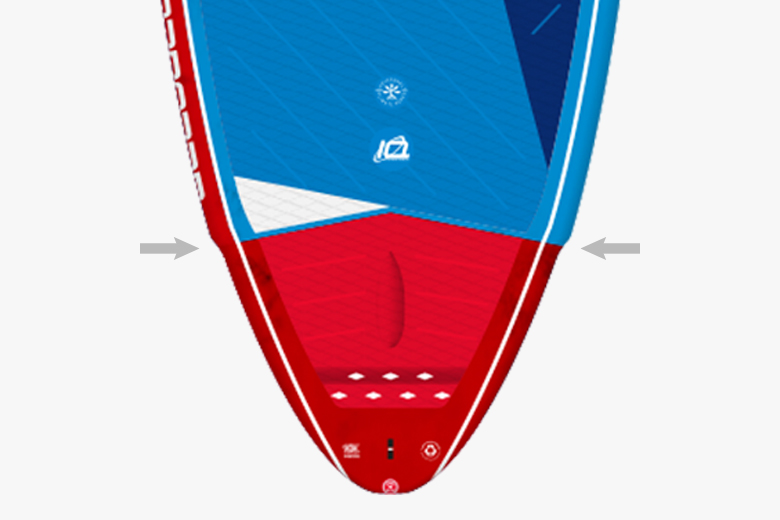 WING TAIL
Creates a break in the rail line, maintaining stability forwards, while narrowing behind the wing to offer much more manoeuvrability.
THINNING AT THE TAIL
For maximum response, bite and control when stepping back.
ROUND PIN TAIL
Offers good drive and hold in bigger surf, yet good stability and manoeuvrability. The round pin complements the looseness generated from the wing tail.
5 FIN OPTION
• Allows for quad, thruster and twin fin with small center nubster. You can choose your preferred fin set up based on riding style and wave conditions.
• All models are supplied with a quad set up with 4.7 front and 4.5 rears.
• The angles of the fins are updated, with more outward splay on the front fins for greater manoeuvrability with less angle in the rear for greater drive through turns.
Model
8'2" x 30.75"
Rider Weight
80-95 kg
Length
8'2" / 248.9 cm
Width
30.75" / 78.1 cm
Thickness
4.4" / 11.2 cm
Tail Width
19" / 48.3 cm
Volume
121 L
Fin Set Up
Thruster
Quad
Fins
Front: 4.7"
Rear: 4.5"
Weight
BLUE CARBON: 7.5 kg (Est.)
LIMITED SERIES: 9.0 kg (Est.)
---
Starboard er et av de eldste og mest respekterte merkene på markedet. Starboard ble startet av norske Svein Rasmussen tilbake i 1994 med revolusjonerende windsurfingbrett. Nå produserer Starboard de beste SUP, kitesurf, windsurf og surfebrett i verden.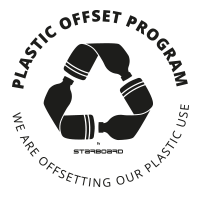 MANGROVER - For hvert brett som selges, planter Starboard en mangrove i Thor Heyerdahl klimapark, som absorberer ett tonn CO2 over 20 år. Les mer->
PLASTIC OFFSET PROGRAM - For hvert brett som selges, plukker Starboard 1,1 kg havplast/søppel. Tilsvarer mengden plastsøppel som kommer ut i havet, per person, per år. Les mer->
Vi er stolte av å representere Starboard SUP i Norge.