AN EVOLUTION OF THE CLASSIC SURF SHAPE - SMOOTH, STYLISH, SIMPLE
High-performance Longboard that is versatile, incredibly responsive and smooth to turn.
This paddle board is inspired by our legendary Starboard Surf Longboard model, designed to perform in waves from 1ft small beach breaks to head high reef breaks. The boards offer fast down-the-line surfing, as well as the ability to perform in the critical section of the wave. These cutting-edge shapes are totally well received by our team riders and anyone who have tested them.
STARLITE - THE STRONGEST RAIL EVER TESTED
- Ultra-durable, scratch and impact resistant woven 200g twill azure rail protection.
- The combination of twin T-stringers deck and bottom to protect against total breakage. The T-stringers are positioned close to the rail working like an i-beam to endure heavy drops and strong wideouts.
- Starlite now features a full deck of 0.6mm Australian pine wood which is sandwiched between 2 glass outer skins, increasing the overall total breakage strength and reducing the weight due to lower resin absorption.
Model
10'0" x 31"
LONGBOARD
Rider Weight
50-110 kg
Length
10'0" / 304.8 cm
Width
31" / 78.7 cm
Thickness
3.6" / 9.1 cm
Tail Width
18.5" / 47 cm
Volume
147 L
Fin Set Up
Thruster
Fins
Center: 185
Side: 4.5"
Weight
STARLITE: 10.6 kg (est)
---
https://sup.star-board.com/2021-paddle-board-range-archive/2021-longboard-sup/
---
Starboard er et av de eldste og mest respekterte merkene på markedet. Starboard ble startet av norske Svein Rasmussen tilbake i 1994 med revolusjonerende windsurfingbrett. Nå produserer Starboard de beste SUP, kitesurf, windsurf og surfebrett i verden.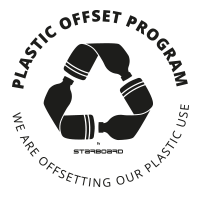 MANGROVER - For hvert brett som selges, planter Starboard en mangrove i Thor Heyerdahl klimapark, som absorberer ett tonn CO2 over 20 år. Les mer->
PLASTIC OFFSET PROGRAM - For hvert brett som selges, plukker Starboard 1,1 kg havplast/søppel. Tilsvarer mengden plastsøppel som kommer ut i havet, per person, per år. Les mer->
Vi er stolte av å representere Starboard SUP i Norge.